10.07.15 : by Wizard
Check out Rob Nilsson's latest film, PERMISSION TO TOUCH, at the Mill Valley Film Festival. Plus, check out the Limited Edition Citizen Cinema t-shirt.
PERMISSION TO TOUCH, World Premiere, Oct. 14 & 17 (get tickets)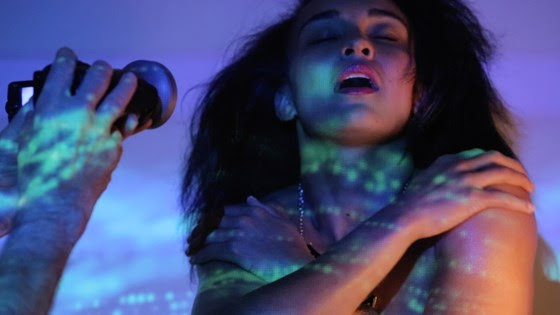 Rob Nilsson's new film PERMISSION TO TOUCH, featuring Nilsson and T. Moon in the lead roles, will have its World Premiere at the Mill Valley Film Festival, on Oct. 14, 8:45 at the Christopher B. Smith Rafael Film Center, 1118 4th. St. San Rafael, CA.  A second screening will take place on Oct. 17, 7:45, at 140 Throckmorton, in Mill Valley.  Tickets can be purchased at the Mill Valley Film Festival web site.
Internationally renowned for his signature style, the emotionally intense, character-driven approach known as Direct Action Cinema, director Rob Nilsson (Bridge to a Border MVFF 2014, A Leap to Take MVFF 2013) spins the camera 180 degrees to focus upon a fictional facsimile of himself in Permission to Touch, reprising the lead role of photojournalist Mel Hurley from his 1987 Sundance Grand Jury prizewinning film Heat and Sunlight. Now 30 years older, Hurley is asked to put his unique vision at the service of Funmi Marlowe, a sensuous and sybaritic young female performance artist (a pitch-perfect T. Moon) who requisitions his services but is not content to merely submit herself to his gaze. The result is a thoroughly provocative mix of reality, fiction, spontaneity, and intelligent scripting that shapes itself into a deeply meaningful dialogue on the intimate erotics of filmmaking and the power of the image in front of and behind the screen.

-KD Davis, Mill Valley Film Festival
New Citizen Cinema T-shirt
Get a Limited Edition Citizen Cinema t-shirt and do some good. We've partnered with other local businesses and artists to raise funds for public education and charity. Plus it's eco-friendly and made in California by Farm Fresh Clothing Co. Order your shirt online via The Doorway Fundraiser.